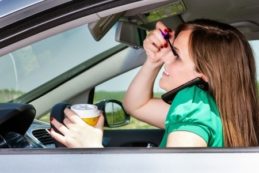 Click Here: Suspects sought after victim driven to Kenosha Co., assaulted, hours after attempted abduction
That's a pretty scary headline on Fox6 Now.com Here's how to minimize your chance of becoming a victim: 
Don't sit in your car alone to check your phone anywhere, day or night. Doing so allows criminals to surprise you, because your attention is on your phone screen, etc. Criminals calculate the chance of catching you by surprise. The more distracted you are, the easier you are to target.
When approaching your car, day or night, look around, under and inside your car before getting in, then get in while having awareness around you, lock the door, start the car and immediately drive away. People have been targeted in their cars if they stay idle in their vehicles for a long time on their phone etc. in parking lots.
When leaving stores or restaurants in parking lots: Look confident and aware of what is going on around you as well as behind you. Bad guys will avoid people that look like they will make it difficult for them, so visibly carry pepper spray in your hand, a kubotan stick, or an improvised weapon if you can. Bad guys are assessing possible victims all the time and don't want to get hurt or attention drawn to them, so look like you would be a fighter and they will not be as likely to choose you. Trust your intuition, if someone gives you a bad feeling, turn around immediately and walk back in the building  or walk by other people till you feel comfortable again.
Never, ever roll down your window if a stranger asks you. That carries over into other areas like getting into Uber cars, elevators, etc. Do not get in if you feel uncomfortable. Do not worry about being rude. Do not give the bad guy any advantage because you want to be polite!
Criminals exhibit predictable behavior when targeting unsuspecting women. Following the advice in this post will help you greatly reduce your chance of being victimized.