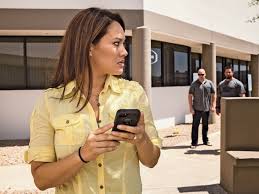 What is your level of awareness of your surroundings and personal space? Would you even notice if someone was following you? Are you as relaxed in a familiar place with strangers as you are in your own home? Are you aware when people get too close into your personal bubble? Do you allow it?
I remember reading an article last year where a woman was engrossed in her cell phone while walking in a mall. Considering her focus was entirely on her cell phone, she tripped and fell into a fountain. Completely bewildered, she found herself lying in the fountain water in the middle of the mall! Unbelievable!
Would you ever let your guard down so much that something like that would ever happen to you?
I make observations about the behaviors of the general public on a daily basis considering the nature of my work. I have long walking strides and a quick pace, so sometimes I find myself getting close to people entering or leaving stores. Most people don't even notice that I am directly behind them. If I had bad intent, I could do a host of things to harm them, because they are showing that they are an easy target, in their own world and completely unaware. We don't want people to be walking around paranoid, but certainly more aware would be better than less aware!
For this reason, I want to share Jeff Cooper's color code of awareness.
In  a recent physical self-defense workshop, we received feedback from one young lady that she had never thought about her level of awareness at home, out in public, etc. She said she found considerable value in learning about improving her mindset as it relates to awareness and having a plan in place, if needed.
While training with an NRA regional counselor last year, I picked up a quote from him that I share all the time. He said "those who constantly live in white will never have the luxury of yellow and orange."
Hope you enjoy reading about Cooper's awareness color codes and it improves your approach and level of awareness in your daily life.