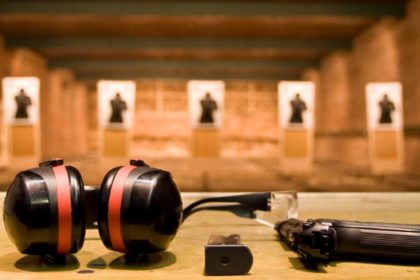 We recommend that beginners should consult an NRA certified instructor in the discipline in which they are interested in shooting to become familiar with the unloaded gun prior to going to the range. During this time, you will be taught basic gun safety and will gain an understanding about how the gun works and other important points that should be understood prior to going to the range. Then do a bunch of practice using the magazine release, locking the slide open, using the slide release or racking the slide manually so you understand how the gun works. You should practice loading and manually unloading with dummy ammo. This list of tips is not all inclusive, but would be a great start in becoming comfortable handling a firearm before firing it.
When you arrive at the range, be prepared to rent a gun if needed, rent a lane for aprox. 1 hr. and buy ammunition. You will be asked if you need "eyes and ears". This means eye protection glasses and ear protection muffs (we like using ear plugs as well as muffs). Some ranges have short ranges, primarily for concealed carry defense practice and long lanes for recreational and competitive use for handguns and rifles. Shotguns are usually not allowed in indoor ranges.
You will be asked how many rounds of ammunition you want. Each individual cartridge is called a round. You will typically shoot 50-100 rounds per session at the range. Expect all ranges to have slightly different rules. Abide by them. It is important to ask if you don't understand something. Treat your firearm as if it is loaded at all times. If you bring your own firearm to the range, do not carelessly bring it out of the case and casually ask a question or show it to someone. The range employees and other customers do not want to see gun appear outside of their safe protocol in preparation for going to the range lane.
Your firearm must always be unloaded in a case or in a transporting container given by the range while you transport it to and from your assigned range lane. Ensure when your first arrive to your lane and while not shooting, you point your gun in a safe direction down range with the slide open and ejection port facing up so you and others can see that it is unloaded with nothing in the chamber. NEVER EVER point your gun anywhere but down range for the safety of those on either side of you.
Keep your finger off the trigger till your sights are lined up and you are ready to shoot. You must stay at the firing line if you are handling the firearm. You cannot move away from the firing line while handling the firearm. You cannot hand your firearm to someone at another lane. (we witnessed this happen once, that is why we mention it.) Don't assume that you know what you are doing as a beginner, ask questions if needed to fully understand the rules and safety measures.
A Range Safety Officer will be present to ensure safety if needed. They can also help answer other shooting questions as most are very attentive to new shooters anyway to ensure everyone's safety. We recommend going to the range for your first time with your instructor or an experienced individual.
Beginners at the gun range may need a few tips before picking up a firearm.
Just like rules of the road, there are unspoken rules of etiquette at gun ranges. The National Rifle Association calls gun range etiquette "a blend of common sense, courtesy and safety."
Here are some basic tips:
• Stay away from the range, or from any gun for that matter, if you've been drinking or using drugs.
• Don't interrupt someone when they're in the middle of shooting. Instead, wait to talk until they are reloading or resetting targets. Also, don't touch another person's gun or ammunition.
• Only shoot at range-approved targets and not posts, supports, or target frames. Check with your range to see what targets are accepted. Never shoot at someone else's target.
• Know the range's rules about rapid fire, which is often not permitted and can make other shooters nervous. Abide by the rules.
• Respect and listen to the on-duty Range Shooting Officer and ask questions if you have any doubt about what to do.
• If an RSO yells "ceasefire," immediately remove your ammo, put your gun down (muzzle facing down) and step away from the firing line.
• After a ceasefire, be sure to stay away from your gun until the RSO offers an instruction to resume shooting, either by shouting "hot" or "commence fire."
• Be mindful of time limits in your lane. If someone is waiting and there's a 20-minute time limit, pack up and leave when your time is up.
• Pick up after yourself in the shooting bay when you're finished. That means throwing away spent cases and shells, removing and discarding your targets, and generally straightening the area.
• Wash your face and hands after shooting to remove gunpowder residue/lead and avoid getting it on other people, their property, or food.